Britains Kane Trailer Toy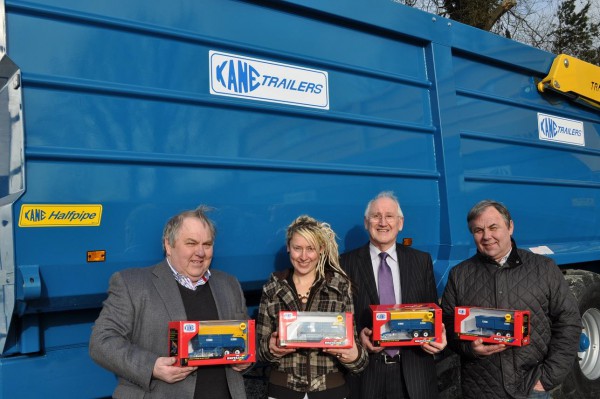 Noel Kane, Harrot Lampard Britains Toys Alan Thompson Britains Toys, Colin Kane
Tuesday 7th Feb marked the launch of the long awaited Kane Halfpipe trailers made by leading toy manufacturer Britains. The toy manufacturer adopted Kane's flagship range of trailers, marketed as the Kane Halfpipe.  The launch included two variations of the popular 16T Halfpipe model, in either silage or grain specification.  'The excitement of the arrival of the trailers took us all back to our childhood, but the wait was well worth while,' commented Colin Kane.
Kane Trailers is a family run business established by the Kane brothers Noel and Colin in 1969, operating in Co. Down Northern Ireland. The birth of Kane Trailers was a follow on from the silage contracting business started in the 1940's by their late father James Kane which continued to run until the late 1980's.  Noel and Colin still have farming close to their heart and continue to run their own farms. These farms operate parallel to the manufacturing business and include a combined 800ac of arable land and a poultry unit.  This allows Kane Trailers to identify needs and test performance of trailers prior to any new products coming to the market. The company prides themselves on the quality of design and manufacture of their products. This attention to detail allowed them to become a dominant driving force in the market for over 43 years. Although only a medium sized company the skilled workforce see their produce sold in many continents across the globe allowing the brand to continually strengthen. Kane's have a large product portfolio which provides models for both agricultural and construction sectors, some of the most renowned products are the silage trailers and lowloaders.
It is the iconic Halfpipe MQ trailers which Britains have adopted as the latest addition to their range. The Kane Halfpipe range of trailers was officially launched by Kane trailers in 2008 following two years of development. These trailers were aimed at contractors in the industry requiring high specification and consequently high performance. The key features with this Halfpipe range include a single tipping cylinder, high speed axles, sprung drawbar, contoured body to allow full visual of the wheels, hydraulic up and over tail door, reduced weight, interchangeable from grain to silage and led lighting to name a few.  It also combines all features with modern ascetics for the more image conscious customers. The toys launched by Britains mimic all these features albeit in 1/32 scale, the tipping body, opening rear door, sprung drawbar and steerable rear axle are all functional. They have a diecast chassis and axles with rigid ABS plastic bodies and finished in the traditional blue and yellow Kane colour scheme.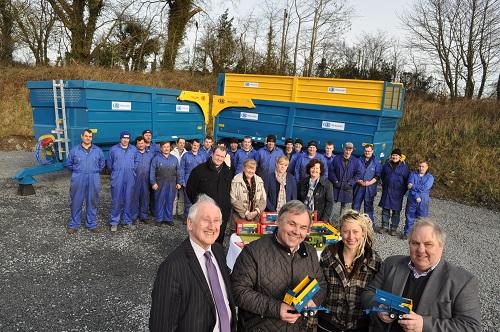 The manufacture of these toys by a well known toy brand such as Britains has been very well accepted by Kane Trailers. Britains have been making farm toys since 1921, securing itself as the most established producer of farm toys and models. The Britains brand maintains its place as a genuine and vital range for enthusiasts as a collectable and as a toy. The recognition of the Kane Halfpipe trailers by Britains was a big sense of achievement for Kane Trailers as there are many other trailer brands worldwide to choose from. Britains previously manufactured an English based trailer but due to progress in technology and trends in the industry this model is now outdated and out sized. This is also the first time Britains toys have replicated a product manufactured in Northern Ireland. Having a Northern Ireland product distributed worldwide continues to promote the agricultural sector in Northern Ireland.
 Noel Kane commented, '…looking back and remembering playing with a Britains Ford 5000 I never imagined that one day a trailer we designed and made would appear on another child's living room floor,  it's an honour.'
'The quality and precision of the toy is amazing for such a mass produced and competitively priced product, it will not only satisfy the young farmer but also the collectors.' said Colin. Kane trailers appreciate the introduction of the Britains model will boost the company image just as their  Halfpipe range has set the industry standard for trailer design and as Britains are sold worldwide it will create extra market awareness. A flattering thought from a company which hold a very traditional marketing policy. Kane trailers thank Britains for using their design but also thank their customers for using Kane Trailers and making them an icon of the silage field.
Richard Kane