Welcome to our company!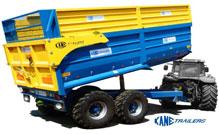 Kane Trailers have a large product portfolio which includes models for both agricultural and construction sectors.
Kane Trailers, established 1969, is located in Co. Down, Northern Ireland and manufactures a wide range of mainly tractor drawn trailers predominantly operating within the Agricultural and Construction sector. Although being a SME Kane trailers have in excess of 15,000 units produced worldwide making Kane Trailers a recognised and trusted brand.
Based in N. Ireland where some of the most testing situations can arise all Kane Trailers follow a design ethos placing durability, performance and safety at the forefront. Combine this with the continuous improvement practices within the company and it leads to quality registered designs. To Kane Trailers the build quality is the dominating factor for supplying a market leading product; this is why each individual trailer carry's the Kane key to quality – enforced with over 45 years experience and a true understanding of the conditions their trailers need to operate. Please see our Product Pages for info on our trailers. Thanks.
Kane Trailers has a long history in agricultural …